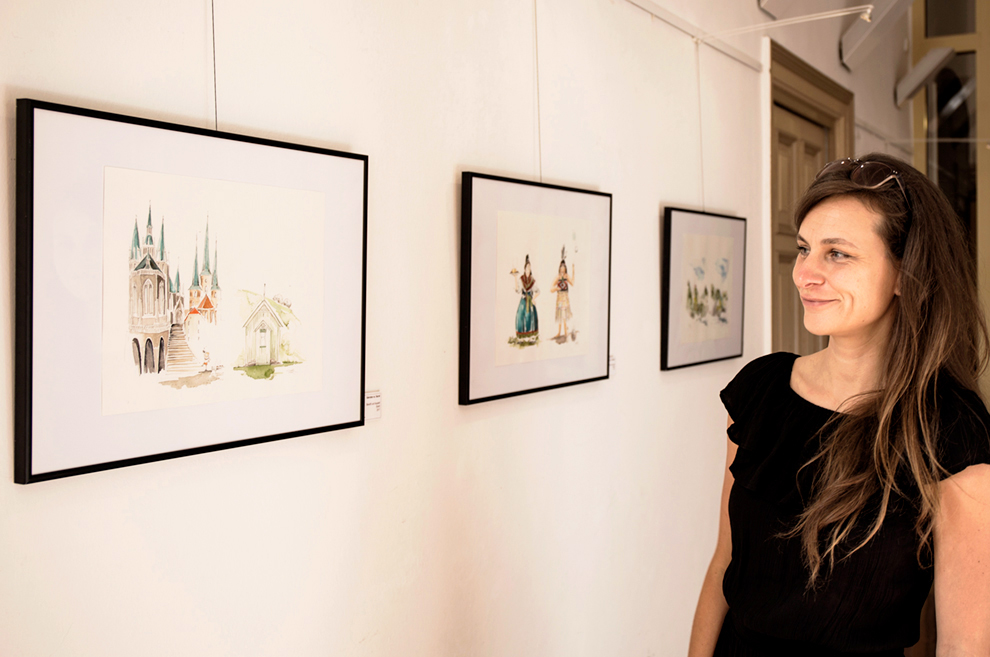 Foto: © Stadtverwaltung Erfurt
Illustrations made in New Zealand
Katrin Kadelke was born in 1979 in Güstrow/ former East Germany and did grow up in Thuringia. After studying Architecture she started to work as an illustrator and designer in 2008. Instead of moving to Sardinia she moved to New Zealand in 2010. From there she published her first kids-book in March 2012 "Nitwits"( Bertuch Verlag Weimar/ GER ) and her second book "Little Bear Tries" in December 2014
( The Nelson Copy Press/ NZ ) and had several solo-exhibitions in Wellington, Christchurch and Opotiki. She is specialised in hande made illustrations with pen and watercolour. Focused on kids-book illustrations she also illustrated branding and packaging, merchandise as well as editorial illustrations.
In December 2015 she was invited to met with Helme Heine in Russel. Helme Heine, as a best-selling German writer, children's book author, illustrator and designer, described her artwork as "powerful", "thought through" and "always with a sense of humour".
Contact: info@katrinkadelke.de
Illustrationen aus Neuseeland
Katrin Kadelke, geboren 1979 in Güstrow, lebte von 1986 bis 2010 in Thüringen und seit dem in Neuseeland. Nach zahlreichen Ausstellungen in Erfurt, Weimar, Tiefthal als auch in Auckland, Wellington und in Christchurch/ Neuseeland, veröffentlichte im März 2012 der Bertuch Verlag Weimar das Kinderbuch "Knalltüten" ( Autor: Ulf Annel ). 2014 erschien das englischsprachige Kinderbuch "Little Bear Tries" ( Autor: Nathan Miller ) über "The Nelson Copy Press"/ Neuseeland. Der Kinderbuchillustrator und Autor Helme Heime würdigte ihre wiedererkennbare Linie und feinsinnigen, humorvollen Arbeiten bei einem Treffen in Neuseeland im Jahre 2015. Im Juni 2017 erschien ihr 3. vollständig illustriertes Buch "Rinderschwanzsuppe und Kindertanzgruppe" (Autor: Ulf Annel) im Bertuch Verlag Weimar. Ihre grafischen Arbeiten umfassen Corporate Designs, Gebrauchsgrafiken für Verpackungen, Merchandise, Printmedien als auch Grafiken für Online-Anwendungen. Ihre Illustrationen wurden u.a. in der "DAB" ( Deutsches Architektenblatt ), "Thüringer Allgemeine Zeitung" und dem Satiremagazin "UNNU?" veröffentlicht.
Kontakt: info@katrinkadelke.de
Auch zum Anschauen, unser I-Book aus dem Jahre 2012:  Klein Mette – ein dänisches Märchen